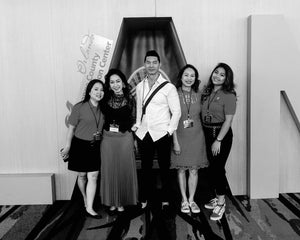 Family Owned + Operated, Since Day One
About EMCHI
Coming from the Vietnamese language meaning, "little sister, big sister," the name EMCHI represents more than just incredible dip powder and nail products, but honors the heritage of sisters Nicole & Ana, our founders.
When we first started out, we were not much more than a few dip powder colors selling to local salons and spas. As we continue to grow, our values of providing the highest service, selection, and quality remains.
Our iconic dip powders and nail products can now be found globally, whether online, in-stores, or at your local salon.
Responsibly Made
We've always believed that the best products don't compromise. With a selection of 200+ colors, our Dip Powders are made from the highest caliber of ingredients, at the highest standards. Our selection is proudly Made in the USA, Cruelty-Free, Vegan, Odorless, Non-Toxic, and Vitamin Enriched, for a flawless manicure, every time.
Going a step further, we're pleased to offer carbon-neutral shipping to all clients, at no extra charge, when you place your order and pay with Shop Pay.